About Mike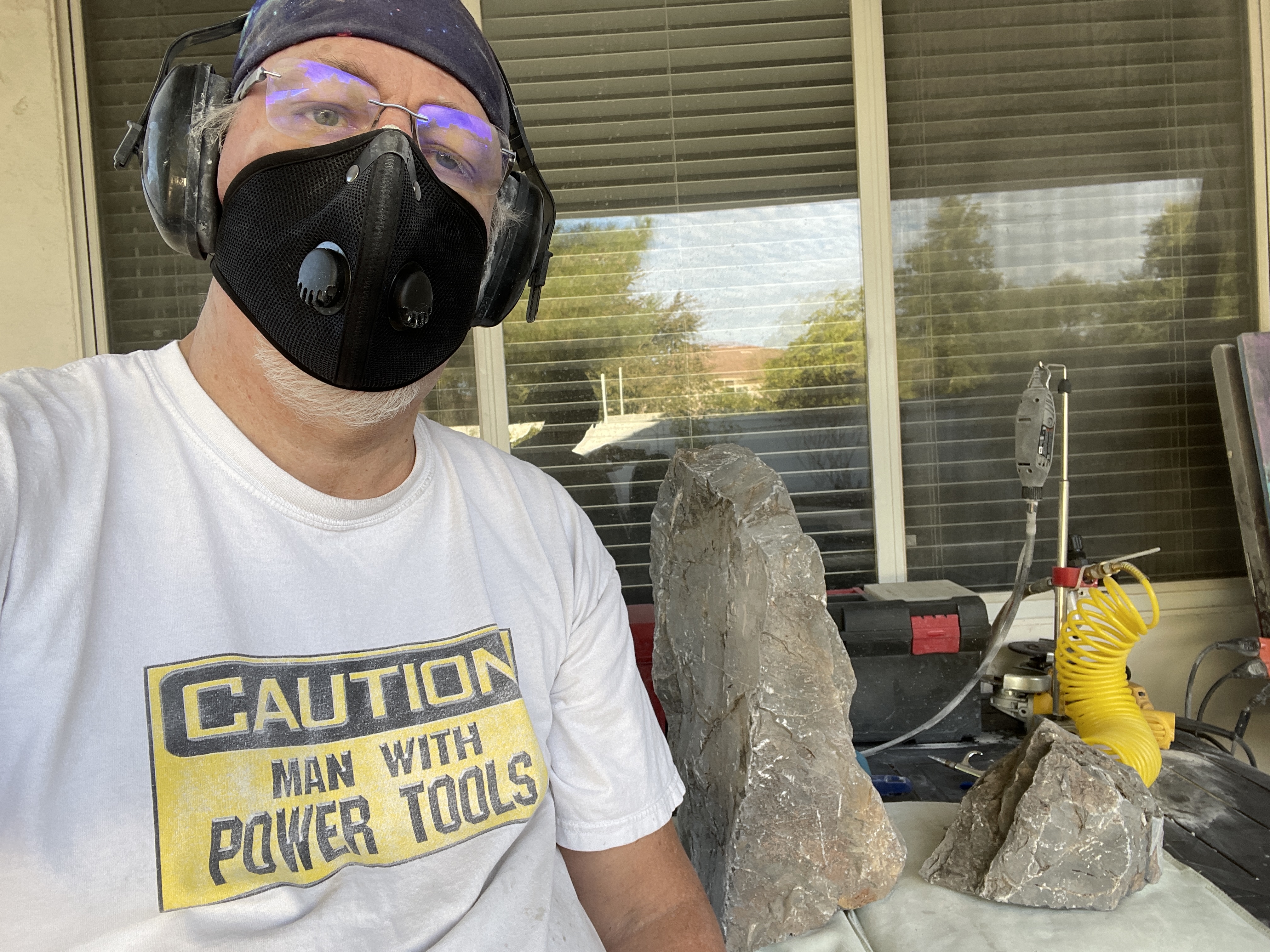 I've always been drawn to the grace and beauty of classical stone sculpture. As a professional software "nerd" for the last 40 years, I love the feel and presence of stone. Sculpture is my attempt at bringing a bit of beauty into the world.
I had my first brush with artistic fame in the first grade. I created a picture of a giraffe in a circus wagon that was chosen for publication in a national calendar of art created by elementary school children. It would be a long time until I achieved such "fame" again!
In high school, I was on a college bound track so I didn't have any opportunities to take any art or shop classes. I did get started in photography using an old 35mm camera. I would take images of friends and school activites, including football games. As a senior, I was approached by the school staff to document some of school activites. These were used in a presentation to the school board by the Administration. It was my first "professional" job!
When in college studying to be an engineer, I took several classes in the Art Department as electives. At one point I considered switching majors to Fine Art but the concern how to make a living and how to tell my parents made me hesitate. Getting a D in Art History put that crazy idea to rest once and for all! Something about sitting in a huge, dark auditorium at 7:30 in the morning listening to the TA drone on and on about some boring paintings didn't inspire me for some reason!
Once I graduated from college with a Masters in Computer Science and settled into my first "real" job, I took up photography again. I moved up from a 35mm to medium format, and eventually to large format. Every year I'd spend a week in California to attend Steve Anchell's "The Nude at Big Sur" workshop and traveling around the state to do landscape photography. While home, I'd photograph the Florida landscape, birds, and flowers. (As an introvert, I was too shy to ask people to pose for me!) When I could, I'd also do portraits of friends and colleagues, including our department's secretary and here son. The image won 1st place in black and white photography in the Harris employee art competition and was included in thier 1992 Art Exhibition calendar.
During my years in Florida, I repeatedly took part in the film and printing class offered thru the county's life long learning program. This helped me refine my vision and photography skills. I enjoyed the class so much that I even signed my dob, Charlie, up for the class several times so the minimum enrollment would be met! I also participated in the Indian River Camera club, eventually becoming president until I left Florida. In 1994, I won 1st place in both Black and White and Color at the IRCC's annual print competition.
A few years later, I found myself living in Portland, Oregon. I continued my photography, although I found the constant drizzle to be an impediment. So I started taking evening clay sculpture classes from the Pacific Northwest College of Art. One of the pieces I created there got fired and acted as the model for 2022's Peaceful Slumber carved in stone. I really enjoyed working in oil based clay except there really wasn't any feasible way at the time to make a piece permanent. Having a mold made and cast into bronze was just too expensive for an amateur like me. So I took a weekend class at a local ceramics store on stone carving. I had a blast during the class! Unfortunately, life intervened and it would be several decades later before I'd be able to return to stone carving.
While trying to find my artistic niche, I've dabbled in woodworking, primarily making furniture. I've also experimented in wood turning on the lathe, making bowls. Bowling turning brings up a recurring question in art: what do you do with the finished pieces? With bowls, friends, neighbors, and complete stangers quickly learned to run and lock their door when they see you approaching with yet another bowl in your hands! I've attended clay sculpture and bronze casting classes and figure drawing sessions at the Scottsdale Artists' School. I've tried metal sculpture, getting mentoring from Kevin Caron.
While looking for my calling, I ran into Mark Carroll at one of the local art shows. I liked his work and after getting to know him a bit better, he told me about the Indiana Limestone Symposium. The symposium intrigued me for several years. But Indiana is a long ways from Arizona and the logistics seemed untenable. It's not like your rock will fit in the overhead compartment on the airline! So I kept dreaming and looking.
Finally in the spring of 2022, I heard about a stone sculpting symposium called Marble/marble. I had accrued too much vacation time at work and Marble, Colorado was only a day's drive away, so I signed up for the first session. Red Vortex is the results of attending that workshop.
And the rest, as they say, is history!